Neurofeedback is a type of biofeedback that measures and trains brain waves. Results are achieved by teaching the brain to change using feedback. During a session, the brain receives real-time audio/visual information that reflects it's own electrical activity. This 'brain training' produces more efficient, balanced and stable neural patterns. In her book about neurofeedback and developmental trauma, Sebern Fisher states that 'neurofeedback raises the brain's threshold to stress and generally increases stress resilience as it increases stability.
blank
How does neurofeedback work?
In our office, we use QEEG technology to understand how the different areas of the brain are functioning and communicating with each other. This allows us to develop a neurofeedback training program that aims to improve brain wave functioning and relieve symptoms.
An EEG machine measures the electrical energy released by nerve cells at work. The numbers of brain cells firing at different speeds produce the brainwave patterns seen on the EEG. The brainwaves have names, but in general, the speedier brainwaves are used for thinking while the slower ones are used for relaxation and to maintain involuntary bodily functions. Neurofeedback allows us to regulate our brainwave patterns.
Neurofeedback encourages specific areas of the brain to speed up or slow down as needed, essentially stabilizing brain activity. Neurofeedback training encourages flexible and adaptive brain wave communication that results in the experience of moving more smoothly from one state of arousal to another. Eventually, no more training is required to maintain improved these benefits.
What issues does neurofeedback treat?
The following issues have published scientific evidence of effectiveness with Neurofeedback:
Addiction
Anxiety
ADHD/ADD
Depression
Learning Disabilities
Post-Traumatic Stress Disorder
Relaxation
Sleep Disorders
The following issues have clinical reports of effectiveness with Neurofeedback:
Attachment Disorder
Autoimmune Dysfunction
Chronic Fatigue Syndrome
Chronic Pain
Borderline Personality Disorder
Cognitive Decline in the Elderly
Eating Disorder
Obsessive-Compulsive Disorder
Tourette's Syndrome
Traumatic Brain Injury
Dissociative Identity Disorder
Parkinson's Disease
blank
What will I experience?
After the QEEG results have been reviewed, neurofeedback training may begin. Each session, electrodes will be placed on the scalp at the locations indicated by the assessment. The information is carried from the brain through the electrodes to the EEG machine. Advanced neurofeedback software creates auditory feedback (typically a chime sound) that trains your brain.
During a neurofeedback session, you may receive as little as 30 seconds or as much as one hour of training depending upon your brain's receptivity. Sometimes you may be an active participant in changing your brain wave pattern but often the feedback will allow your brain to change itself without any effort on your part. In our clinic, typically 35-40 sessions of neurofeedback constitutes a complete training program. However, the length of treatment at our clinic varies widely. People who have a traumatic brain injury, degenerative neurological condition or complex trauma history may expect to continue treatment much longer than 40 sessions in order to maintain an improved level of functioning.
LENS (Low Energy Neurofeedback System) is a newer form of neurofeedback that we offer at our clinic. This non-invasive and quick treatment option has been used for 20-plus years. It has been shown to diminish problems associated with dysregulation of the central nervous system such as anxiety, depression, post-traumatic stress, mood dysregulation, brain injury, attentional issues, and learning and memory problems.
blank
How does Lens works?
The LENS disrupts and releases maladaptive brain wave patterns created by the central nervous system in response to stress, distress or injury. During a LENS treatment, the brain is able to listen to itself by receiving a reflection of it's own activity from the sensors attached to the scalp. LENS neurofeedback disrupts brain waves momentarily and allows the brain to reset and reorganize itself. The result is healthier function. A more detailed description of the LENS is available at www.ochslabs.com.
What will I experience?
LENS sessions are brief and the feedback so subtle that most people don't perceive the changes provided by the feedback immediately. Symptom reduction is often noticed in the hours and days following a session. Typically, at our clinic, we combine psychotherapy, LENS and other biofeedback techniques, so a session may last from 30-90 minutes.
The side effects we have seen following LENS are minimal. A few clients have reported mild to moderate headaches and some sleepiness. While the LENS results in successful treatment for many, there is no guarantee that it will help everyone.
How Many sessions will i need?
Recent, acute or less complicated symptoms may resolve in less than 20 sessions.
If you are more sensitive or have a history of complicated or chronic problems, you may need more than 20 sessions. It has been our experience that people with complex developmental trauma may need a few years of LENS treatment in combination with other modalities in order to fully benefit.
We use the Quantitative EEG assessment to tailor neurofeedback treatment to reduce unwanted symptoms and encourage mental, emotional and physical well-being. The results of the QEEG provide extensive information about the electrical activity of brain cells.
blank
What is it like to have a QEEG?
The QEEG acquisition appointment takes between 1-2 hours. An electrode cap, as seen above, will be placed on your head and conductive gel inserted into each of 23 sensors on the cap.
The conductive gel must soak down through the hair to the skin in order to relay the brainwave activity to the sensors in the cap. Rarely, but occasionally, people who are very sensitive to touch find this process mildly uncomfortable. Most people easily tolerate the process.
During the EEG recording it is important to sit still and remain as relaxed as possible. It is not necessary to remain this way for more than a few minutes at a time. We can stop and take breaks as needed.
After recording the EEG for 10 minutes with eyes closed and eyes open, the cap is removed and the gel is cleaned off. It is likely you will want to plan to go home and wash your hair when the process is completed.
Please follow the below instructions to be prepared.
What is the cost of QEEG?
A fee for the test covers the cost of data acquisition, a neurologist's review and a written report with treatment recommendations by Jay Gunkelman, world-renowned QEEG specialist, President and Chief Science Officer at Brain Science International. Usually insurance does not cover the QEEG. Please contact Jessica or Robin for more information.
Preparation Instructions for the QEEG
BE AS RESTED AS POSSIBLE
Try to be as well rested and alert as possible prior to the EEG. If you unusually tired (for you), the EEG acquisition should not be done. Please contact your clinician before the appointment if you are feeling extremely tired or sleepy that day and we will reschedule.
CLEAN, DRY HAIR
The day before or the day of the test, thoroughly shampoo your hair TWO times. Be sure to scrub your entire scalp, forehead, and earlobes with your fingertips, rinse your hair thoroughly between and after washing. Hair must be thoroughly dry for the EEG.
NO HAIR PRODUCT
Do not apply hair conditioner, mousse, gel, or hair spray, and keep your forehead free of make-up, lotions, and conditioners. In addition, do not braid your hair or wear earrings.
NO STIMULANTS
Please do not use stimulants the day of the test. Examples are: coffee, tea, cigarettes, caffeinated soft drinks, etc. Also, avoid illegal or over-the-counter drugs, foods, herbs, or herbal teas that promote sleep/relaxation or the awake/alert state on the day of the EEG.
NO CONTACTS
Do not wear contact lenses as they may become uncomfortable thereby causing EEG artifact which disrupts the acquisition of good EEG data.
MEDICATIONS
It is best to be free of medications that may alter the EEG. Prior to scheduling the QEEG, our staff will gather a detailed medication history from you and consult with your prescribing doctor as needed. Do not make any decisions about stopping medications without first consulting with the physician who prescribed them.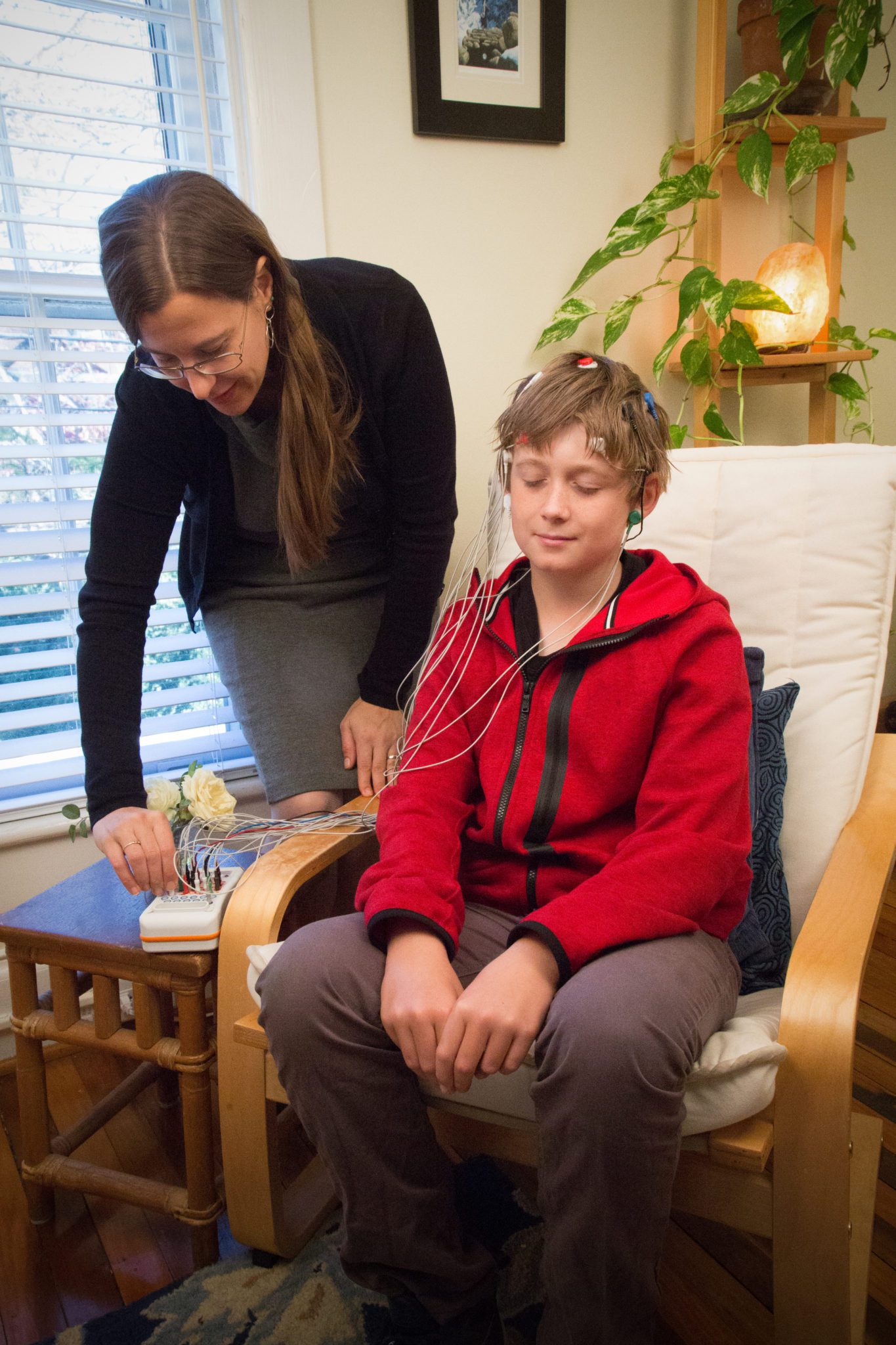 Heart Rate Variability (HRV) training is offered as an adjunct to treatment at the Virginia Center for Neurofeedback, Attachment & Trauma. Clients participate in biofeedback and breathing exercises that help to relieve stress, reduce anxiety, and enhance the ability to learn new information. The heart rhythm has a significant effect on brain function.
blank
How does HRV training work?
The heart rate has a variable pattern that reflects our breathing and level of stress. Positive emotions and a calm, balanced nervous system result in a highly coherent heart rate variability score, whereas negative emotions are reflected by a less coherent, more erratic pattern of activity. A highly coherent heart rate is reflected by a smooth, sine-wave-like pattern in the heart rate variability reading.
What symptoms does HRV training address?
The heart's functioning has a significant effect on brain function—influencing emotions, attention, memory and processing. When a person is distressed or experiencing negative emotions, and the heart rhythm is less ordered and more erratic, the signals then sent to the brain inhibit higher cognitive functioning. This makes it much harder to think clearly, make effective decisions, retain information or learn new material. When our heart rate is more coherent, then the signals sent to the brain facilitate better emotional and cognitive functioning.